Here you can find the files which can / should be downloaded: the most interesting radio broadcasts, wallpapers, music. With the time passing the stock will grow ;)
This presentation contains a full "Professional" story from "Gamedec: Limits of reality" tome, information of the four saga tomes, reviews from prestigious websites, biography of the author, and Robert Letkiewicz's music.
Mac
PC
Music
Robert Letkiewicz's record in physical form can be bought in the Gamedec Zone shop (look up and right, where the "sklep" word can be found). Here his music can be downloaded in pure, digital form. The material contains two bonus tracks: GamedecVerse and Black Widow. Enjoy.


Gamedecverse
Author: Robert Letkiewicz

Część 1
Część 2
Część 3

"Morning over Warsaw City" by Zbigniew Henry Szatkowski is a great music for reading and working. It is worth listening in the predefined order, and looped. The listener will submerge in the music circle and soon will not know where was the beginning.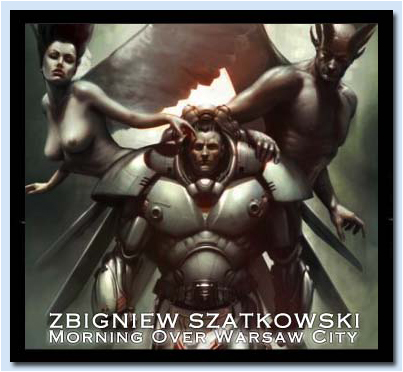 Morning Over Warsaw City
Author: Zbyszek Szatkowski

Część 1
Część 2
Część 3

Wallpapers
Torkil Aymore

Author: Marcin Jakubowski

1280x1024
Two sets for SonyEricsson mobile phones
First set is for models:
610
,
750
,
800
.
Second set is for models:
610
,
750
,
800
.
Here are the chosen radio broadcasts recorded before the publication of "Locomotive salesmen":
Interview for Radio Bis Size: 18,2MB. Packed with Winrar 3.20.
"A Literary Window" - Radio Lublin Size: 12,6MB. Packed with Winrar 3.20.
Krakon 2005 - a fan meeting with the author. Size: 12,2MB. Packed with Winrar 3.20.
Radio Podcast for Radio Dla Ciebie. Size: 19,6MB. Packed with Winrar 3.20.
Grafika: Marcin Przybyłek, Marcin Jakubowski, Marek Okoń, Robert Letkiewicz.
Wykorzystano grafiki Tomasza Piorunowskiego, Marcina Trojanowskiego i Tomasza Marońskiego.
Webmasterzy: Lafcadio, wiesniak

video game walkthrough
Game-No1
Keno
Szósty sposób - blog Andrzeja Zimniaka
Wawrzyniec Podrzucki