I was born in Pułtusk in 1968 and since that time I wanted to be an astronaut. At the age of eight I realized that I came to this world about a century too early and instead of soaring to the universe, I can only move around the Earth. I cried a lot and I decided to become a writer. Then I forgot about this for a moment because my parents wanted me to be a doctor. Although I wasn't keen on medicine, I thought to be a psychiatrist (this profession has something in common with the science fiction). I was wrong, after the hospital internship I knew it's a different kind of fiction. Working the following six years in pharmaceutical concern, having driven over 300 thousand kilometers, I've never managed to enter the hyperspace (Bastards! They didn't install a right button). I met hundreds of new human beings but none of them was an alien (or I didn't recognize them with regard for their doctor's gowns and face masks! Holy shit! There must have been them!). Being tired of failed experiments, I set up a training company Hekson where I teach the rules of interpersonal communication by adding the methods of motional transgalaxy conversation wherever it's possible. Since childhood, the Lem's vision of brain, which by providing the proper impulses is not able to distinguish whether the perceived world is real or false, accompanies my life (from Ijon Tichy's recollections, episode I). Both this vision and the fascination of computer games were collected as publications in: the column of "Grao Story" in The World of Computer Games (Swiat gier komputerowych) and "Gamemotions" (Co w duszy gra) in New Science Fiction (Nowa Fantastyka). When I diversified them with the woman's beauty I created stories about Gamedec, which evolved in the book "Gamedec. The Reality Border". The 2nd volume ("Gamedec. The Steam Engines' Sellers") is a novel like the 3rd volume ("Gamedec. The Toys"), the 4th and even the 15th, because I'm not going to part company with Torkil.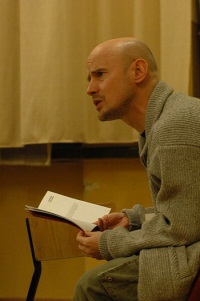 The author a'la preacher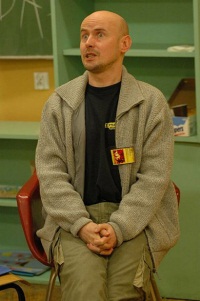 "And then I saw them. One was wearing a shred of towel and the second was simply wearing nothing. Desperately, I realized that I have to recede in a secluded place..." (Krakon 2005, a photo by Michael Dagajew)
The most important thing in the master's work is to have an adequate muse. My daughter Kalina busily prevents me from any creative efforts. (In the forefront unique mug from the limited collection - generally only three were made).
"Please don't listen to this man on the left of me and look only at the smaller book with a funny, blue character" (Traffic Club, the meeting - "Never - never lands").
"Then I smiled, stroke a pose of a bald mantis and said: A watch? Here you are! Do you want a jacket as well? Sure, here you are! A wallet? At your service..." (The lecture about body language. Krakon 2005, a photo by Michael Dagajew).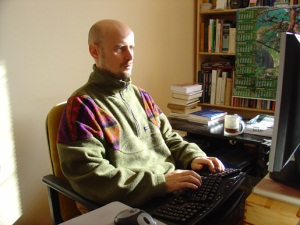 "Manny? Do you mind? Artist at work here". I wonder which game, do you associate this fragment with?
The author's wife, Anna. She claims to be an organic. In the background, a fragment of "Paradise beach".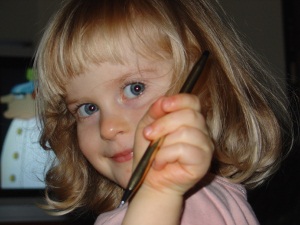 The author's daughter, Kalina. From the first look and the artifact kept in her left hand, she is supposed to become a writer. In the background, a fragment of "Duck Doggers". So...science fiction!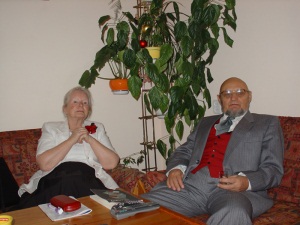 My parents: Maria and Witold Przybylek. Christmas Eve 2004 at my sister's (Natalia Pietkun) house in Troszyn near Ostroleka. My mother is a charming woman (she was teaching the future teachers how to teach those who are paying her pension now), thoughtful and caring about others but inversely proportionally interested in herself. In this photo you can see how she observes her daughter while doing something (bringing cakes, drinks or admonishing the children), she is worrying about her so much. She is the person who made me sensitive to the magnificence of literature. Till today we are chortling while quoting Petroniusz from "Qvo Vadis": "I promised you panem et circenses; and now give a shout in honor of Cesar who feeds and clothes you; then go to sleep, dear populace, for the dawn will begin before long". We also recall a janitor from "Lalka" who rapaciously rushed towards herring, dropped by a pale student... oh yes, she gave me so much...and her sentence which gives me the wings to these days (this is not a quotation): 'he will be a hang-dog or a great person' this is about me). My father spent with me a lot of time. He was developing my interests in: model making (we were bonding the gliders' models), physics, meteorology, chemistry, maths, technology or even ballistic (did I mention that he is a weapon's designing engineer?) Together we were hunting, he taught me how to sail and many other things, for example...how to open the door. It's not a joke. A small child has little strength and if the door wing doesn't want to open, he struggles with the door handle, of course without any result. Daddy explained how I should use my body and balance it to make use of weight. The understanding of technical or mechanical issues doesn't cause me trouble, not because I'm so wise, but thanks to him.
Grafika: Marcin Przybyłek, Marcin Jakubowski, Marek Okoń, Robert Letkiewicz.
Wykorzystano grafiki Tomasza Piorunowskiego, Marcina Trojanowskiego i Tomasza Marońskiego.
Webmasterzy: Lafcadio, wiesniak

video game walkthrough
Game-No1
Keno
Szósty sposób - blog Andrzeja Zimniaka
Wawrzyniec Podrzucki